The SPA tachometer/speedometer can be purchased from SPA Technique. There web address is: https://www.spatechnique.com/

The product comes from the UK, and can be purchased from Indianapolis. Patrick at SPA was very helpful with product application. Technical assistance, however, is slow but rarely needed.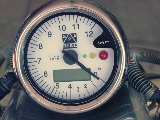 I purchased the SPA for the main purpose of moving the tach to a position that can be seen when deep in Vboost territory. Bonuses include a three stage shift light, maximum speed recall, maximum RPM recall, standing 1/4 mile timer, xxx to xxx acceleration timer, odometer, trip meter, speedometer, selectable units and fits into the stock housing with some modifications.
There are a few disadvantages which consist of possible water damage if douched, tach arm obstructs the view of the digital speed indication when in the 2K-5K range, and while it has many features, the software is somewhat cumbersome for quick recording.
One other points to consider is if it is used to replace a stock speedo, the title will forever say "not actual mileage".