Here's my 1998 Yamaha Vmax. The first row is when I bought it. The other pics are it's evolution to what it is today. Click any one you would like to see closer up. They are mostly 1024 x 768 in size.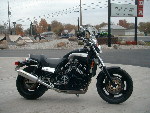 November, 2002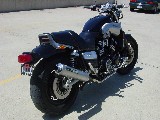 Taken 05/13/2003
Taken 05/13/2003
Taken 08/30/2003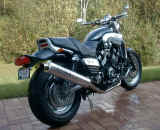 Taken 09/14/2003
Taken 09/14/2005
List of modifications:
RC Component 17" Wheels
5.5" Rear, 190/50
3.5" Front, 120/70
Drag Bars
Mario's Bar End Mirrors
Hindle Exhaust
Double D Clutch
SportMax Seat
Planet Cruiser Billet Levers
SPA Tachometer
Dynojet Stage 7
Yamaha Engine Guards
Mini Blinkers
Custom Grips
Fixed "The Splice"
High Polished a few items